Hola from NOLA rocknrollas,
Progress report: turtle rescue mission.
It is coming along!  We started with, no chance in hell, moving on toward well maybe we can do a back alleyway undertheradar kind of mission,  evolving to at least, the sea shepherd boat will come in and kick the door down, and we can be on board with that... To finally, yes we can get some boats in the water and start rescuing turtles.  Our friend Cap'n Al Walker reported yesterday that he has gotten the go ahead to assemble turtle search and rescue teams, beginning with 5 boats, quickly ramping up to 20!  This is great news for Team Turtle!
We are raising a navy.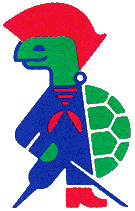 And this is due in large part to y'all. (I love saying that) Thank you so much for stepping up, making your voice heard, supporting the mission, and believing in action!  We have made a difference. Now it is time to get to work.
There has been so much red tape, smoke and mirrors, half truths, full out lies, and non action down here that I don't even know where to begin. I will fill you in on that later... For now, let's celebrate the small victory, regroup, raise some dough, and get in the water!
So much love to you all, and great heaps of gratitude!
Brock